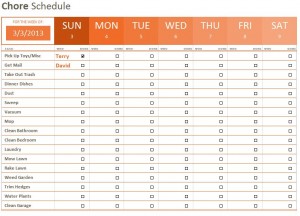 No matter if you live in a tiny little apartment or a huge mansions, there are chores and they have to be done. A clean and tidy home is not only better for your health, it's also nicer to look at. However, getting kids or roommates to do chores is second to impossible. That's where a fully downloadable and customizable chore checklist comes in handy. 

Our fully customizable template allows you to make the chore checklist to list the exact chores that will need to be done in your house. This can also be updated and changed as the chores change or as the house changes.
How to Use the Chore Checklist
First, you're going to decide when the chore checklist will begin. This will be denoted by the date on the top.

Second, You will list the chores that will need to be done on the left hand column.

This is the best part. This is where the kids or roommates are held accountable for what they have to do. Write down the name of who is going to do the chore in each of the "who" sections of the checklist.
Tips for Using the Chore Checklist
There are as many spaces for chores as you want there to be. This can be more than one page if you'd like it to be. Remember though, add a few easy chores in with the difficult ones.
This template can be customized in any way you want. You can customize the colors for the holidays, the time, or favorite color. You can also customize it so that the "check" boxes are bigger or even change the look of the boxes altogether.
The template always starts on Sunday. You have the ability to start on whatever day that is most convenient for your household.
A good chore checklist gives everyone their own job and stops fighting and bickering. It will also make sure that everyone does their fair share in cleaning up the house.
Download: Chore Checklist