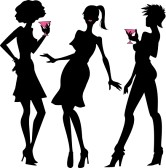 There is never a reason to not have a girl's night out. With time-consuming jobs, family obligations, school studies – it can become difficult to keep up with friends. Avoid drifting from friends by organizing with our Girl's Night Out Checklist which will help you plan for a safe, fun, and easy night out with your friends.
The checklist contains two columns: One with the recommended tasks, and the other with a spot for notes. You can print this template and write in your notes/check-off tasks, or just reference it in Excel online.
Organizing
You can send a mass email, print invitations, or just make a Facebook event. Be sure to include what the night will consist of including times and locations and any special events or shows.
You can also choose a theme if you're celebrating a birthday, event, or special occasion. Make sure that with the theme you also establish a dress code. Some places like clubs require certain standards of dress.
Most importantly, if there will be drinking, get a designated driver or reliable cab service for the night so that everyone can be safe.
Pre-Event
Having a "pre-game" hour or two before the event is a great way to relax before hitting the town. Have everyone meet up at a house or hotel (depending if you're out of town) and get ready together, take pictures, eat food, and talk.
Use this time to make sure everyone has each other's phone numbers and that there is a "buddy system". Remember: If you're at a bar, event, or anywhere crowded, don't leave a friend by herself!
Purse Essentials
You can add or delete items from this list depending on what you have planned for the night out. However, items like medications, extra cash, and water are all good to have regardless of where you're going.
Event
Leave the keys of everyone who is drinking in a safe spot (usually at a home) and hit your first spot. From here, stay safe and have fun!