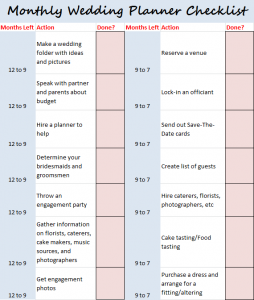 After the excitement of a new engagement is celebrating, planning for a wedding begins almost immediately. Dress shopping, cake tasting, and flower arrangements are just a tiny part of the process that is throwing a wedding. If you're skipping the elopement, the Monthly Wedding Planner Checklist will help you organize what needs to be done at each monthly interval. From 12 months to the week you walk down the aisle, the checklist covers everything you'll need.
How to use the Monthly Wedding Planner Checklist
Download the link below and open the file in Excel. It runs horizontally, starting with 12 months down to 1 week. Each interval has the monthly timeline, the action/task for you, and a checkbox to mark it off.
You can print out this document, or keep it online to reference.  Each action listed is just a very short summary of what needs to happen. For example, the first task is to make a wedding folder of ideas and pictures. Elaborating, that means magazine cut outs, pictures of cakes, ideas for unique décor, and every other part of your wedding you can customize. How you interpret and complete each task is up to you.
Not every task will be something you do. You may not need to research honeymoon locations if you aren't having a honeymoon until a few months after the wedding. Simply cross out or replace these tasks if they don't apply to you.
The months are also just guidelines, but they can't be altered too much. Since most weddings book their vendors months or even a year ahead of time, it's important to get the most important tasks done early.
Tips for using the Monthly Wedding Planner Checklist
Dress fittings can take anywhere from a year and a half to 2 months, depending on where you buy it and what alterations need to be made. Regardless, its best to shop for your dress early on.
Take time to customize your invitations. Specify if invitees can bring a guest, or if children are allowed. Be sure to put a cut-off date for the RSVP to avoid receiving them a day before the wedding.
Print this sheet and go over it with your partner to ensure you're both on the same page. Keep a copy available for both of you to reference.