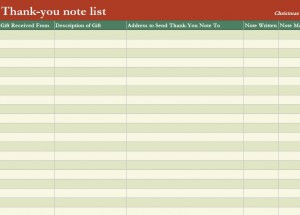 Getting gifts is one of the most fun parts of any celebration. Whether it's a wedding, graduation, birthday, retirement, new baby or get well gifts; they are the way others show appreciation for you and in return you want to thank them for that gesture. A great way to make this more organized is by using a Thank You Note Checklist.
You can find a Thank You Note Checklist template on this page that is free and is also customizable so that extra columns for details and information can be added if desired. This allows you to tweak the checklist to meet your needs. The easy to use and understand template can be quickly downloaded for convenience and then used time and time again for various parties and events.
About the Thank You Note Checklist
The design of the Thank You Note Checklist template is very intuitive and simple. It gives you space to note what gift was received, who gave you the gift and then when a thank you has been sent to the gift giver.
The easiest way to make this simple Thank You Note Checklist work best is to have it printed out or already open on a mobile device or laptop when going to an event where you will be receiving gifts. This makes it a breeze to then be able to chart or log those gifts as you go. In fact, for birthday parties, bridal or baby showers you can even hand off the duties to another person to make those notes on the Thank You Note Checklist while you place your focus on opening those glorious gifts.
Never Miss A Chance To Say Thank You Ever Again
The use of organizational tools such as a Thank You Note Checklist is a great way to help better ensure that you follow proper rules of etiquette. This template alone will help make sure no thank you is ever overlooked ever again and that will make everyone happy and feeling appreciated.
The use of tools and templates for the purpose of staying more organized truly is a top way to make life easier and to never forget those small yet important details in life such as thank you cards and notes.
Download: Thank You Note Checklist