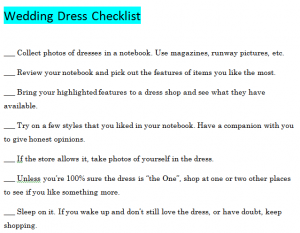 To many people, the dress you wear on your wedding day is one of the most important features of the big day. Unfortunately, the process of buying a wedding dress isn't exactly easy – multiple fittings, endless choices, and mother-in-law opinions can make the task difficult. The Wedding Dress Checklist is an easy way to get your dream dress through a simple step-by-step process.
Tips for your Wedding Dress Checklist
Consider your body type. Go through the dresses you already own and notice repeating features: Do they all have thin straps? Do they cinch at the waste or below the bustline? Do they land above the knee, flair out, or curve around your hips? Write down these repeated features and look for them when collecting photos.
Review the photos and pick out features you love: Lace, sleeves, tulle, sweetheart necklines, beading, etc. Combine these features with the ones you found earlier from your dresses. Consider sketching out a "dream dress" that includes these points.
It's very important to bring at least one (but no more than three) people when you begin shopping in-store. Pick people who will be completely honest! Try on dresses you feel are closest to your vision, but also let the stylist pull a few dresses they think would look good on you. You never know what may end up looking better.
Wait until you are 100% sure about a dress. There's no use wishing you had a different dress on your wedding day. Once you find "the One", start the alterations immediately. This can include simple re-sizing, or added beadwork, strap removal/addition, and tulle. Do NOT request measurements different from your own if you plan to lose/gain weight unless you are POSITIVE you will be a certain size.
Fittings can take two or three rounds, so take a friend each time and practice sitting, dancing, moving around in the dress. Once it fits and you can move, take that beauty home in a zip-lock bag and hang it in a safe place. Don't fold it in any way and make sure it's airtight.