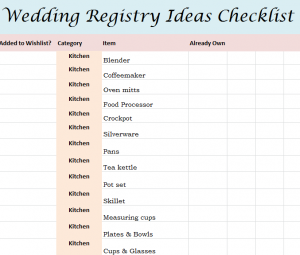 A long standing tradition of weddings is for guests to bring a gift for the newlyweds, generally a present that will help them put their new home together. This practice still happens today, and with the invention of wedding registries, it's even easier for a couple to receive items they need. The Wedding Registry Ideas Checklist lets soon-to-be newlyweds put together a comprehensive list of what they to use when creating a registry.
How to use the Wedding Registry Ideas Checklist
The Excel can be downloaded through the link at the bottom and then either printed out or altered on the computer. The checklist has four columns: a checkmark area to indicate if it's been added to a registry, a category (kitchen, etc), the desired item, and a column to mark if you already own that item (optional).
The spreadsheet is easily altered. For instance, if you want a brownie pan instead of a skillet, you can erase the word "skillet" and put in "brownie pan". There is also a bottom portion for other, miscellaneous items you can add to. The items listed are general ideas and suggestions, so feel free to make them more specific.
Once your registry checklist is organized, you can print it to bring it to in-store registries and mark items off as you go through. You can also utilize the list after the wedding to see what items you may still need.
Tips for using the Wedding Registry Ideas Checklist
You can add another column next to "already own" titled "Where to buy". For instance, if you want a tea kettle from Anthropologie, you can indicate it there and remember that when you're shopping.
Avoiding registering the same item at multiple stores. You don't want to unwrap six toasters on your wedding day (probably).
Leave off items that you know someone is getting for you IE if your parents have said they will be gifting you a set of glassware.