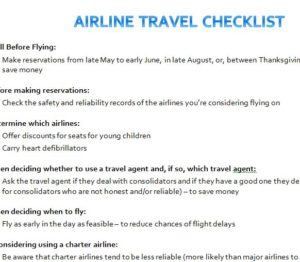 The free Airline Travel Checklist template was designed with comfortable travel and you in mind. This simple document will provide you with a list to bring the comforts of home along with you on your next plane ride. We all know that travel by plane is not so fun, but this template goes the extra mile to ensure you never forget something that will make your flight, especially longer ones, as comfortable as home. You will be given a simple Word sheet that includes helpful examples, to which you can add and edit as you see fit.
To get started today, just follow the list of instructions below.
How to Use the Airline Travel Checklist
You will start by downloading the free template by following the link at the bottom of the page.
Next, go ahead and start changing and editing the items as you see fit. This template will allow you to change and enter the items that you find necessary for your travels, as everyone has their own special items they like to bring along.
The template is broken apart by the stages of boarding the plane. You will have sections before making reservations, choosing travel agents, etc.
Go ahead and change the examples to whatever you find helpful or necessary. When you have gone through and made all the changes you want for the Airline Travel Checklist template, you can print the sheet to start using immediately.
To print your document, you will need to press the File button in the Home ribbon and select Print from the drop-down menu that appears.
Once you have the physical sheet in-hand, go through the list from top to bottom and check off items that you have completed to ensure everything is ready for your flight.
You can use this template again and again to make your travel an enjoyable experience this year.
Download: Airline Travel Checklist