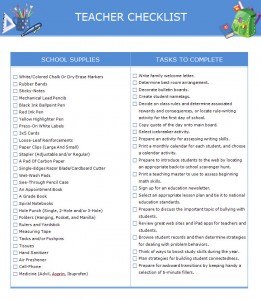 Back to school is in full swing and while teachers have already been hard at work preparing for the new school year, it is never too late to use a checklist to help make sure no detail is left undone. The Teacher Checklist is a great tool to use in order to ensure that everything is set for an amazing school year.
The template is set into two sections that can be updated to include anything specific you may need for your classroom. If you have already begun to work on your classroom, you can still go through the checklist to ensure nothing has been overlooked. Once downloaded you can easily share this checklist with other teachers in your grade group or school.
Customizing the Teacher Checklist
The checklist template is easy to customize for your specific grade-level or school needs. It covers the basics of any classroom setup as well as tasks to have ready for the first few days of school. You can add more items if needed or adjust the list to fit your teaching requirements. From rubber bands, highlighters, and a pencil case to selecting an ice breaker activity or writing a family welcome letter, this checklist is a great way to start off a new year.
Starting off right with the Teacher Checklist
After printing the checklist, you can easily mark off each item as it is bought or completed. As each item is marked off, you will know that you are setting yourself up for a successful start to a new school year. The details won't be overlooked or forgotten with this great tool!
Download, add to it if needed and enjoy a great school year with everything you need in place!
Download: Teacher Checklist