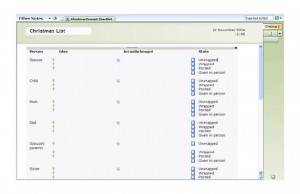 The Christmas season is a special, but busy time. Keeping up with social engagements, holiday decorating, gift giving and more is enough to make anyone's head spin. One way to keep things organized and under control is with this Christmas Present Checklist. By utilizing this simple template, people are able to keep up with all of their gift ideas, purchases, and even wrapping and gift distribution.
How to Use the Christmas Present Checklist
First, obtain a copy of the template to your computer or tablet. The template is available for free download on this page.
Second, begin to fill in the Christmas Present Checklist. The template is customizable to meet individual needs. Type out all the names of the people you plan to give gifts to this season as well as any gift ideas and purchases you may have already made.
Third, continue to use this easy-to-use template as you complete your holiday shopping. Check off the boxes as each gift is wrapped and given.
Tips for Using the Christmas Present Checklist
Make use of this helpful tool for both personal and business purposes. In addition to keeping track of friends and family gift purchases, download a copy for work to organize the presents needed for customers and employees.
Keep the template in an easily accessible location on the computer so that it can be pulled up quickly.
Store a hard copy of the Christmas Present Checklist in a purse or wallet so that you can add to it on the go. Later, update the electronic copy and print a new copy to keep with you. This way, when you see the perfect idea for someone you can jot it down right on your checklist.
Consider this template to be a yearlong tool. It is never too early to start the Christmas Present Checklist. Gift inspiration could strike at any time and this valuable tool will allow users to easily keep track of ideas and remember what gifts have been purchased.
Save a copy of the template at the end of the holiday season each year to reference later. An unused gift idea from last year could turn out to be the perfect gift for the next year.
Take the stress out of Christmas shopping by downloading this free and helpful tool here. Download a copy for yourself today.
Download: Christmas Present Checklist