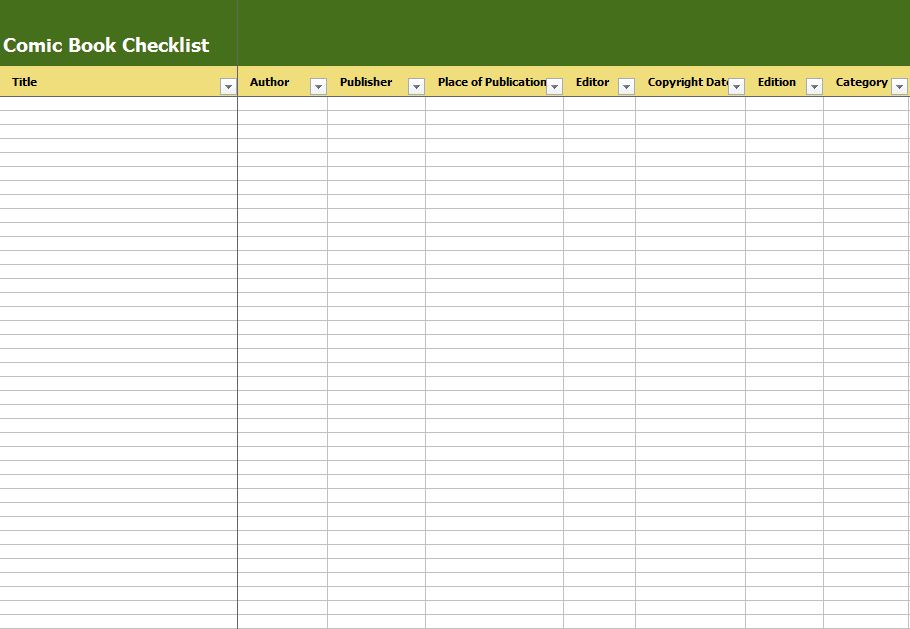 Often times, comic book collectors treat their comic books like children or members of the family. While they are highly cared for and highly protected, it can be difficult to catalog all your comic books based on the size of your collection. That's why the comic book checklist is the perfect solution to your cataloging problem.
You can keep a detailed record of your collection with the comic book checklist. By using the comic book checklist, you can also save money for more comic books. You can download, save and print the comic book checklist absolutely free. Simply click on the link that is available on this page.
Using the Microsoft Comic Book Checklist Template
The comic book checklist is a ready-made Excel template from Microsoft. The checklist is completely customizable, meaning you could add pictures of your favorite comic book characters if you so desire. You can also change the font or the color scheme so it better suits your personality.
The complimentary comic book checklist is split up in to 15 different categories. They are:
Title
Author
Publisher
Place of Publication
Editor
Copyright Date
Edition
Category
Language
Translator
Cover Type
Pages
Condition
Shelf Location
Notes
You can add information to the comic book checklist two ways: either by typing it in or writing it by hand. If you type in the information and save it, you can then sort it a number of ways. You can sort information by name, type, date or color. You can also sort it from A-Z or Z-A.
Keep track of your prized comic book collection with the comic book checklist from Microsoft. Download the comic book checklist template or any of the dozens of checklist templates and spreadsheets available on this site for free today!
Download: Comic Book Checklist