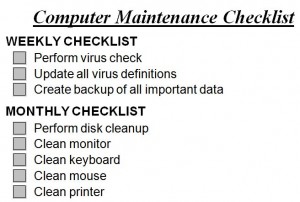 The computer maintenance checklist helps you keep your computer or laptop in perfect working condition. By routinely performing these tasks you maintain the computer clear of viruses, keep it running efficiently and optimally with no slowdowns or glitches. The computer maintenance checklist is available for free on this page. It is easy to download and use, plus you can customize it to your specific computer related needs.
About the Computer Maintenance Checklist
Weekly Computer Maintenance Checklist Tasks
Run a virus check
Update the virus software you use.
Run an effective Malware removal tool.
Dust the computer or laptop with a dry soft cloth.
Monthly
You should run the following computer maintenance checklist tasks once a month:
Run the Disk Cleanup tool. Go to Start, Accessories and click on System tools. Select Disk Cleanup from the drop down menu.
Blow compressed air over the monitor, keyboard and mouse. Wipe the monitor screen with a slightly damp soft cloth, or better still, use specialized screen cleaning wipes.
Bi-monthly Computer Tasks
These computer maintenance checklist tools need to be run every two to three months:
Defragment the hard drive. Go to Start, Accessories and select System Tools. Click on the Disk Defrag option and then start. Expect the process to take a couple of hours, especially if you've never defragged the hard drive.
Check Your Hard Disk. Click start, then Run. Type CHKDISK and click start. The system will check the hard drive and fix any issues or bad sectors.
Install any Windows, Adobe, Java or Flash updates. If your computer doesn't inform you of needed updates look for them online.
Once a Year Computer Maintenance Checklist Tasks
There are a couple of tasks you should perform at least once a year to keep your PC running efficiently.
Open your PC or laptop and clean out the interior with compressed air. Check the fans to make sure they are spinning correctly and make sure all vents are clear.
Install new antivirus software.
Remove any unwanted programs. Go to Control Panel and select Programs. Uninstall unneeded and old software.
After deinstalling software always run a Disk Defrag.
Download: Computer Maintenance Checklist