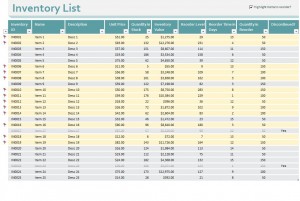 Keeping an accurate inventory log is crucial to the success of any store, restaurant or business. Failing to monitor your inventory could lead to major problems down the road. That's why the inventory checklist from Microsoft was created.
With the inventory checklist, you can stay on top of what you have on hand while also keeping track of what you need order. Those in charge of inventory will love the fact that the inventory checklist from Microsoft is absolutely free. Simply click the link located on this page to get started today!
Getting the Most Out of the Microsoft Inventory Checklist Template
The inventory checklist template is a Microsoft Excel spreadsheet. All aspects of the formatted inventory checklist template are customizable, so please feel free to make changes if necessary.
The checklist is very straightforward. Anyone who has taken inventory before should have no problems or issues using this Microsoft template.
The inventory checklist contains several categories, including:
Inventory ID
Name
Description
Unit Price
Quantity in Stock
Inventory Value
Reorder Level
Reorder Time in Days
Quantity in Reorder
Discontinued
One of the best features of the inventory checklist is the check box that asks if items that need to be reordered should be highlighted. It's highly advised to check this box so you will be automatically notified when you are running low on an item. A small flag will also appear next when it is time to place an order.
There are also several ways you can sort the items in the checklist. Items can be sorted from A-Z, Z-A, and by color.
You can make taking inventory a little less stressful with the inventory checklist template from Microsoft. Download the incredible template and dozens of other helpful templates, checklists and spreadsheets  for free today courtesy of ChecklistTemplate.net!
Download: Inventory Checklist