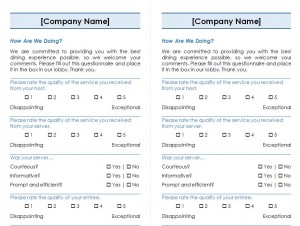 In the restaurant industry it is vitally important to solicit customer feedback in order to stay open and flourish into a successful business. However, many restaurants overlook this important component because they are simply unsure of how to effectively survey their customers. Consider utilizing this restaurant checklist as a quick and easy way for customers to provide relevant feedback to help your business grow.
This restaurant checklist consists of eight main categories asking customers about the service, food, beverages, cleanliness, and overall experience. Since the restaurant checklist is set up in a way that is easy for customers to quickly complete, they are much more likely to fill out the survey as it comes along with their bill than they would be to respond to a future mail or e-mail survey. It is an ideal choice for restaurants who are committed to improving service.
How to Use this Restaurant Checklist
To begin using this restaurant checklist, simply click the download link directly from this website to download the fully customizable template entirely free. Then open the template in Microsoft Word.
Next, it is time to customize the restaurant checklist for your specific needs. Be sure to add the name of the restaurant then customize any specific comments or checklist options to your desired preference.
Finally, print out the restaurant checklist either on legal, cardstock, or standard sized paper depending upon your preference and distribute it to your customers as needed when they finish dining.
Tips for Using this Restaurant Checklist
Present this checklist at the conclusion of a meal but be sure that the server tells the guest about it. Many restaurants make the mistake of simply including it with the bill without reminding the customer of its presence.
Customize the checklist based on your needs. For instance, if service is a problem at your restaurant then include many questions about service and be sure to tell all servers that their performance will be reviewed based upon feedback.
Hold the servers accountable for having the surveys filled out for best results. It will ensure that all surveys are received.
Download: Restaurant Checklist