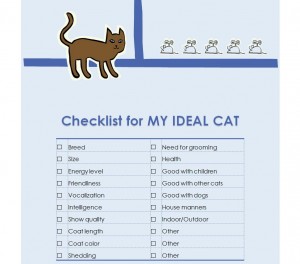 So you've decided the time is right to add a cat or kitten to the family. Selecting the right cat or kitten for your home isn't as easy a decision as you may think. That's why Microsoft created the new kitten checklist.
With the new kitten checklist, you can map out a game plan before looking for your new pet. The new kitten checklist is printable and there's no limit to the amount of times it can be downloaded. Taking care of a new pet can get awfully expensive. That's why you can download the new cat checklist absolutely free! Simply click on the link on this page!
Using the New Kitten Checklist from Microsoft
The new kitten checklist is a user-friendly Microsoft Word document. The colorful checklist includes clip art of a cat and toy mice.
The new kitten checklist is a very straightforward document. The body of the checklist features a variety of factors you will want to consider before bringing home your new cat. Some of the factors include:
Breed
Size
Energy Level
Friendliness
Intelligence
Coat Length/Color
Health
Good with Children
Good with Dogs
House Manners
Before venturing out to look at potential new pets, you're encouraged to print off several new kitten checklists. As you look at cats, jot down the name or type of cat at the top so you can reference it later.
The new kitten checklists can be customized so it best suits your needs. Thanks to Microsoft Word, adding and removing information is a breeze. As formatted, there are three empty spaces labeled "other" that can be altered to a factor you wish to consider.
Before a new furry friend enters your home, use the new kitten checklist to make the best decision for yourself and your family. Download and print the new kitten checklist for free today!
Download: New Kitten Checklist