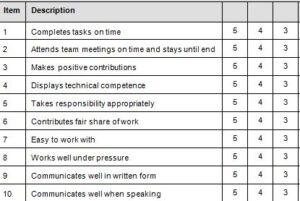 Evaluating the skills and efficiency of your project team members is crucial for the success and growth of future projects. The free Project Team Peer Evaluation Sheet is a template that allows you to assess the strengths and weaknesses of a project team, allowing you to determine if their role would be better spent in another area. The template will give you a simple checklist that can be changed as you see fit. As you go through the template, you'll fill out information about the people in your project team and evaluate their performance. Ideally, this will help team leaders find the best place for individuals in a project.
Getting to Know the Project Team Peer Evaluation Sheet
Once you have followed the link below and downloaded the free template file, you're free to start making changes.
You can start by printing the document. First, click the "File" button then "Print" at the top of the page. A dialog box will appear and you can choose the number of copies you want to make.
Next, enter your project team names, the current date, and the peer you're evaluating at the top of the page.
You'll want to change the items given in the list. These are excellent examples to give you ideas and get started, but ideally, you'll want something that goes along with your company structure and philosophy.
The idea is to have each member of the team fill out the information for another team member. You will rate the items you've entered on your version of the Project Team Peer Evaluation Sheet from 1-5.
The project leader will take this data and determine the strengths and weaknesses of each person. Using this data, you can determine the best role for each person to play on your next team project.
Download: Project Team Peer Evaluation Sheet