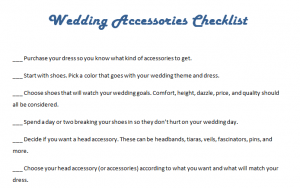 A barefoot beach wedding with just a white cotton dress may be your dream day, but for many their wedding is more elaborate. Shoes, veils, earrings, and more are all part of the bridal-image package. The Wedding Accessories Checklist will guide you through all possible accessories and how to choose the best ones for you.
How to use the Wedding Accessories Checklist
Purchasing your dress is the first thing that must be done. Because some dresses cover the neck, collarbone, arms, and other areas, some jewelry isn't plausible. The dress will also determine what kind of jewelry will match best.
The next step is to choose shoes. It's okay to choose more than one pair! Many brides will have a fancy pair of heels for the ceremony and dinner, and then switch to something more comfortable for the reception. If you're walking in sand or grass, avoid heels that are thin and will sink into the ground.
A head accessory is common for bridal wear. Usually a bride wears a veil (which come in different styles and lengths), but there are also jeweled headbands, fascinators, and more you can wear. Like shoes, you can switch these out for practicality.
Many families have traditional jewelry that is worn by each bride in the family. Use your own judgment if you want to take part in this. Remember, you can always switch accessories out between the ceremony and reception.
When you have picked out all of your accessories, put everything (everything!) on to view in the mirror. It's also a good idea to have a trusted friend with you to give any advice or reassurance.