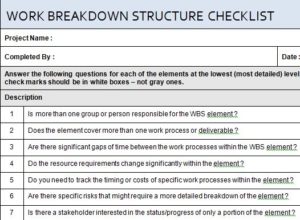 Breaking down the workload and finding the core structure of your business takes a lot of work. Remember, for a business to thrive, you and your team need to be a well-oiled machine. The Work Breakdown Structure Checklist is a free template that helps you and your team develop this core structure in the planning stages of your new business.
You will be given a simple checklist-style Word document that you can edit and change as you see fit. The idea is to organize your planning so the end result is the finished structure of your business. To see what this template can offer you, follow the link at the bottom of this page to download your free copy.
Using the Work Breakdown Structure Checklist
Begin by entering the name of your project and the date you want to complete the structure of your business on this template.
The main table features example tasks that will help you and your team hammer out the system you want to use for your company. For example, if you're involved with selling a product, you can create tasks like "Calculate number of employees needed to manage the front-end of the store."
Your first step to completing this template is to go through the list and keep what works for you, change the specifics, or replace the item entirely. You know your business best so make this template your own.
We will use an example so you know how to use this template properly. Look at example item #18. This example states "Have you reviewed the WBS with all the appropriate stakeholders?" This is a very important question because it shows stakeholders the commitment and organization of your goals and ideas.
Once you have the details of your business structure, you can mark this example item as "Yes." If you're still working on a few elements, then you need to mark the item as "No," for now.
Using this method, you will make sure that all the fine-details of your business have been thoroughly considered.
Download: Work Breakdown Structure Checklist